Just Say the Word, We Can Do it all!
New Builds, Renovations, Repairs & Maintenance
We can assist with all aspects of residential electrical work.  eccelec also has an in-house interior stylist (our GM, Lauren) who can work with you and your budget on your lighting selections. 
Fit Outs, Maintenance, Repairs, test & Tag
We've worked with commercial clients ranging from retail to accomodation.  We're here to ensure both your team and your customers are safe.  We'll even adjust our work hours to suit your business!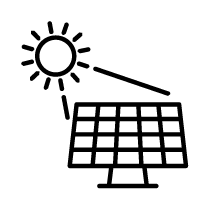 SOLAR
We're accredited installers and only ever use our own team to install your solar, meaning you deal direct with us. Plus, you still get to make the most of the government rebate!

LIGHTING
Complete lighting designs for new homes and renovations or assistance with switching to LED. Our qualified electricians and in-house stylist can advise the best course of action for your lighting requirements.
SMART HOMES
Imagine coming home from work to a house set to the perfect temperature, blinds down and the door even unlocking for you as you pull up in the driveway. It's all possible.
WIRING & SWITCHBOARDS
Pre 1970 wiring or any switchboard without RCD safety switches should be made current to protect your home and family. Contact us today for a safety check and free quote.
REPAIRS
We can assist with the troubleshooting of ongoing electrical issues, or urgent repairs such as hot water service faults. Regularly working with property managers and real estates.
SECURITY
Basics such as sensor lighting or complete security camera installation with smart home integration. Make your home or business more safe with extra visibility.
We strive to make our clients happy
So, let's be happy together